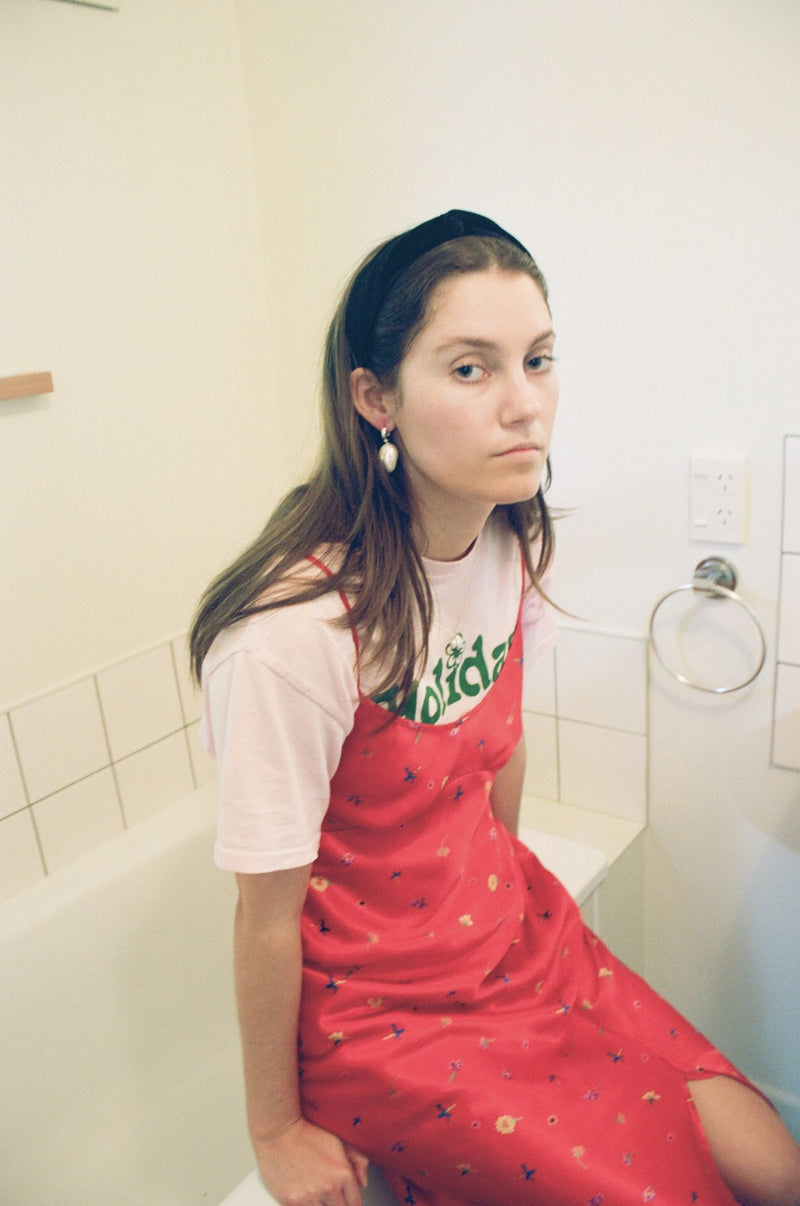 Journal / LIFE ON MARS / Lily Blackman
LILY | @lilymelba
Name: Lily Blackman
Occupation/ Business/ Creative outlet: I'm a suit at an Advertising agency.
Starsign: Cancer
Favourite Number: 27
First thing you did this morning: Got dressed, sat in traffic for 40 minutes and went to the gym (Les Mills hon).
Products found in your bathroom cabinet: Weleda skin food for serious moisturising! (aka for when you're hungover and want to feel somewhat put together) Origins Vitazing SPF Sheer tint release, I wear this nearly every day! I'm not a fan of wearing foundation all the time so it's my go to. I've just bought Go to Face Hero oil, the ingredients are very kind to my skin so far and I always steal my mums organic lip balm.
If you could only use one piece of makeup what would it be? Benefit 24 hour brow gel.
Three ingredients always in your kitchen cupboard? Balsamic vinegar (obsessed), peanut butter & Tuimato sauce.
 If you were on Masterchef what would be your 3 dream Mystery box ingredients? I am the worst cook but maybe rosemary, cherry tomatoes and balsamic vinegar.
Dream job when you were 5? I think I wanted to be a writer or a professional dancer, turns out I'm horrible at both!
Currently reading/ listening/ watching? I'm re-reading Everything I know about love by Dolly Alderton. It's basically a love story about her and her friends, it makes me feel very lucky for the friends I have (they're my soulmates). For listening, I've got Jungle on repeat at the moment and watching Big Little Lies and Handmaids Tale.
The first album you ever bought? I honestly can't remember but either the Shrek soundtrack or a Now CD.
Best song to dance to? So many goodies!! Hard to pick but maybe Florence and the Machine, Dog days are over or Jungle, Busy Earnin.
Favourite form of movement/ exercise? It would either be Grit cardio or Ceremony at Les mills! 
Go to karaoke song? I've never done karaoke but maybe Dancing in the moonlight or anything by Elton John.
Nighttime rituals? First thing I do when I get home from work is have a shower, in my mind that gets rid of the day. Most nights I listen to a podcast to put me to sleep.
Sunrise or sunset? Sunset.
Dance party or dinner party? Dinner party!! I can eat all the yummy food and then dance after?? 
Favourite smell? Would have to be either Narcisco Rodriguez (one of my mums perfumes) or Bal D'Afrique by Byredo. 
Pet peeves? When people don't recycle, the recycling bin is right next to the general waste bin at work… When people don't use a bathmat after a shower.
Favourite sandwich? Chicken, avocado and mayo. 
Death row meal? A cheeseboard or my mums chicken and asparagus pie with roast potatoes.
This time last year, I wish I knew... To eat dinner before drinking at work. It's vital in order to avoid the anxiety the next day.
Last text you sent? I know it's actually crazy!!
Last google search? Bank rewards programs
Best piece of advice you've been given? Always be yourself and never apologise for it.
Thanks Lily!
Lily wears her own clothing with some of her favourite Mars Pieces: Baroque Huggies, Betty and mini Betty necklace in silver and Lotte sunglasses in Black